The business landscape is constantly changing. New competitors, policies and consumer trends can impact small businesses already trying to carve their niche in their industry. At Exectras, we understand what it takes to run a small business because we are a small business as well!
We have lived your struggles and strive to create a solution that helps increase the profitability and productivity of your business while enhancing the lives of your people. Let's explore some of the most common pain points for small business owners in 2020 to understand how Exectras can help.
Current pain points for small businesses
1. Credit card processing fees: When you set up your business, likely one of the first things you did before opening to the public was set up a merchant processing account. These third-parties are crucial for helping your business accept credit card payments (and let's face it, businesses can't afford to be cash only in this day and age). However, Forbes warned that small business owners should be wary of their merchant processing statements each month. The initial rate you may have signed on to may have increased over time and begin seriously eating into your business's bottom line. Along with being aware of your statements, look for a merchant processor who is transparent about their fees and promises never to increase them.
2. Retaining talent: The Society for Human Resource Management found that replacing one hourly employee costs a business $1,500. Not only is it expensive to lose team members, but it also has a negative impact on company morale and productivity. To combat this problem, most business owners entice employees to stay with benefits. In fact, 72% of employers cited the reason for increasing their benefits package was for the explicit purpose of retaining employees. Yet, how can business owners offer better perks and programs without negatively impacting their bottom line? Exectras makes it possible when you become a member by offering your employees a free menu of exclusive benefits that promote total wellness all at no extra cost to your company!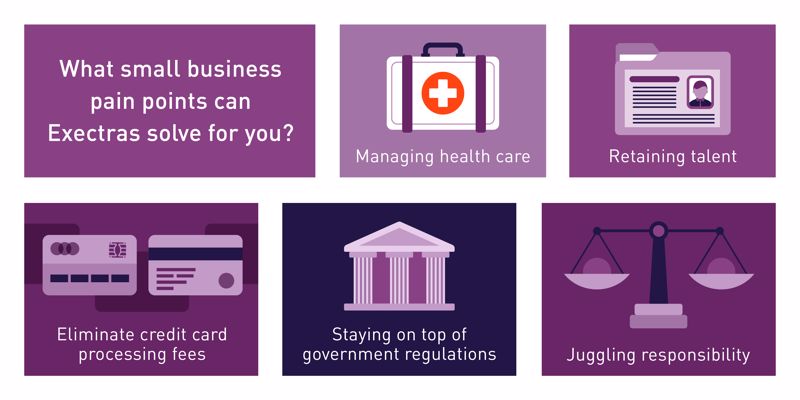 3. Managing health care: Nearly 80% of small and midsize business owners worry about how health insurance costs impact their profitability, according to Small Business Trends. With health care costs rising in recent years, it's no wonder that this is on the top of the mind for small business owners and families alike. It's crucial to offer employees a health care plan, but what about tailoring perks to support their health goals? Managing health care is not just about providing your team with access to a doctor, it's about keeping them healthy and engaged with a total wellness solution that addresses their physical, mental and financial health. Consider adding benefits that promote your well-being beyond traditional health insurance.
4. Staying on top of government regulations: Taxes, employment rules and advertising are just a few of the areas business owners need to be constantly vigilant about to ensure they're in compliance with government regulations. However, this can easily become overwhelming for proprietors to manage on top of their daily business operations. Outsourcing some functions like HR and payroll to an expert system can help lighten the load for business owners and ensure they are remaining compliant with government regulations.
5. Juggling responsibility: Speaking of lightening the load, Score reported that 84% of business owners work more than the standard 40 hours a week. It's no surprise that managers and owners wear many different hats during the business day, but that can ultimately keep them from focusing on their main priority: growing their company. The same source also found that 35% of business owners cite poor time management as being the main factor that keeps them from being their most productive. Again, this is where outsourcing operations can come in handy and be a cost-effective way for owners to prioritize their time and efforts for the business.
Exectras provides the tools to help
Exectras is the only company in America that provides such a comprehensive program that helps small and midsize businesses gain a competitive advantage to Fortune 500 companies. We are not just another service provider, we are a partner whose mission is to help your business succeed with deeply discounted world-class business services from vetted companies and some of the most sought-after free employee perks for your team.
To learn more about how Exectras can help your organization achieve its goal, download our free eBook "How an Exectras membership can be applied to every aspect of your business" today.